Orifice Block TypeOB
Outline
Orifice Blocks are used for high temperature, high pressure or leaky fluid.
There is a wafer type which is easy for application and change as that of orifice ring, and also, the other type which has higher resistance to leak.
Take out of differential pressure shall be made by corner tap or flange tap.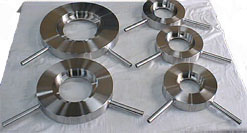 For estimation or order, please advise the following data.
Size

50A~500A
If you need the sizes of less than 50A or more than 500A, please also ask us.

Rating

JIS10K , 20K , 30K , 40K , 63K  JPI/ANSI 150 , 300 , 600 , 900

Orifice Block material

SUS304 , 304L , 316 , 316L , Titanium , HASTELLOY, etc.

Differential Pressure Outlet Connection

R1/2 screw , NPT1/2 screw , 15A plane end,
15A pressure outlet flange

Orifice type

Concentric sharp edge
Quadrant
Segmental
Eccentric

Others

If any of the following item is necessary, please advise.
・Plate thickness
・Serration
・Pressure take out direction
・Hardening of orifice edge
・Special shape
・Special material
etc.
ease advise the necessary data on "Flow Element Specification"for
calculation of orifice sizing, differential pressure and flow rate, referencing
"Necessary items for flow calculation" .